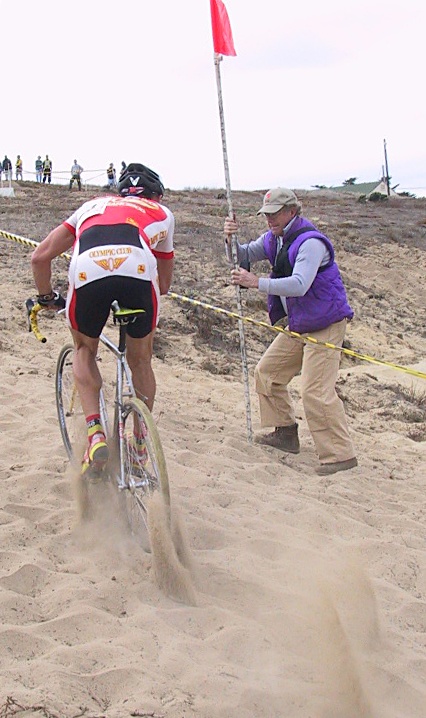 CX1:
26 Oct 2014
Location: TBD
REGISTRATION
Registration opens at 8 am on race day. There are no field limits or late fees. Online registration is available as long as the registration button is visible. Online reg. typically closes Thursday evening prior to the race. We accept credit cards for day of race registration and merchandise.
Bike Type
Ride what you brought. Most of our courses favor a cross bike, but to minimize barriers of entry to the sport, mountain bikes are allowed, particularly in the beginner categories.
Timing
Riders are issued one number for the entire series. Please bring it with you to each race. Pin the number parallel to your torso above the hip for maximum readability by the scorers. No chips for this season; we're giving them a rest until we can improve their read accuracy.
Prizelist
SCCX is run as a points series.
Overall prizes are awarded at the last race of the series to the top three riders in each category.
Day of race cash prizes are paid to the top three riders in the Men A, Women A, and Master Men A categories
Riders must be present at podium awards ceremonies to receive prizes
CATEGORY INFO
Riders are broadly divided into Open, Master, and Junior groups. Juniors are age 18 and under, Masters 35 and up, and Open riders are 18-34, though anyone who wants can ride the open group regardless of age.
Categories divide riders into fitness and ability levels.
Cat C
Typically beginners to the sport, but also a good group for those getting back into cyclocross after some time off who are still in a state of training deficit. Roughly equivalent to USAC 4/5.
Cat B
Generally intermediate to advanced riders in both skill set and fitness level. Also considered the "Working Person's" category because the reality of life gets in the away of being competitive at the A level. Roughly equivalent to USAC cat 3.
Cat A
This is serious. The fittest, most experienced riders are in this category, and you never know who will show up. Thomas Frischknecht, Bart Brentjens, Tim Johnson and other luminaries have made appearances over the years. USAC cat 1/2 equivalent.
Race Up
Riders can race "up" in category, meaning Juniors and Masters can ride in a group considered harder than their own. For example, a 45 year old can register with the Master 35 group and a 15 year old can register with the Junior 17-18 group. As mentioned above, anyone can register in the Open group. It's recommended that you remain within your category (A, B, C) if you do so.
Kids
Are in a league all their own. Aged 9 and under, they usually race a subset of the main race loop, and may do multiple laps depending on course layout. Everything from push bikes to miniature cross bikes with 24" sewups are seen in the kids race, and prizes of fun bags with Clif Kids bars and the occasional medal (no cash or start money, sorry) are awarded to all.
ENTRY FEE
$

35
master
open
singlespeed

NO LATE FEES!
Not USAC Permitted
Additional races ridden on the same day are $15.00.